Browse Our Most Popular TV Stands in One Convenient Place
---
The Best Selling Floor Stands, Wall Mounts, and Accessories for TVs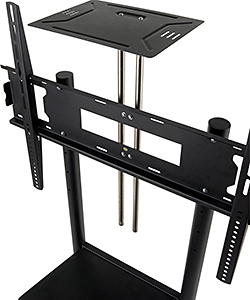 Ever been curious about which products most customers buy? This collection of TV stands represents the top-selling models in our inventory. The wide variety is indicative of the sort of offerings we stock for professional applications. Suitable for exhibitors, educators, and retailers, these popular TV stands provide the tools necessary for displaying flat screen monitors in virtually any setting. Models range from mobile floor stands with rolling casters to complete trade show booth solutions featuring custom graphics. Read on to learn more about these best sellers!
What kinds of flat screen displays are consistently purchased by customers?
TV stands are by far the most popular and we offer a decent price range for every budget. Most come with casters for transporting from room to room, especially important if being applied in office buildings or classrooms. Models featuring camera shelves are excellent choices for conference rooms, where video-conferencing meetings usually take place.
AV carts are another best-selling mobile TV fixture. Not only do these come with mounting brackets on top for monitor presentation, they also feature cabinet storage underneath. Locking doors help keep electronics or other supplies safely stowed away. Integrated power strips provide plenty of outlets for TVs, video players, and much more.
Our digital signage offerings combine a commercial-grade monitor with a floor stand for displaying targeted digital content. Since these are portable, you have the opportunity to place the sign virtually anywhere for maximum impact. Already have your own flat screen yet wish to convert it to a digital sign? Purchase our small digital signage media player with plug-n-play access!
Trade show exhibitors have the unique problem of outfitting their booths with display fixtures designed to attract attendees. The other requirement is these fixtures need to set up and knockdown quickly, and come with their own cases or carts for transport. We offer TV stands that do just that, but what about the monitor itself? Purchase rugged storage cases designed to transport this fragile and valuable merchandise. Each case features foam padding for storing one or two flat screens in a range of sizes. Rolling casters, integrated handles, and secure latches are just some of the standard features included. Booth bundles, combining TV stands, custom-printed backdrops, and counters offer a complete solution and convenient purchasing for the convention exhibitor.
Each monitor fixture is fully VESA compliant, meaning the hole pattern on the mounting brackets will match the holes behind your flat screen TV. While this collection of displays reflects most what our customers are buying, there are many more styles available in our expansive inventory. We stock floor stands that support more than one screen, racks with merchandise shelving, and desktop mounts for the working professional. Our selection is unparalleled!