TV Ceiling Mount for Overhead Viewing in Public Areas
---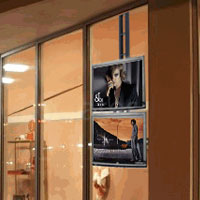 TV Ceiling Mount - Fixtures for Suspending LED TVs
What TV ceiling mount styles are available at this online store? A vast array of bracket systems that complement nearly all plasma television sizes, makes, and models is yours for the choosing. Confused by the number of choices? Our informed customer service team members are here to help with your order if that's the case. One thing that won't be hard to do is find brackets compatible with your flat screen television, no matter what it is. Our universal TV ceiling mount hardware complies with VESA standards (the results of Video Electronics Standards Association working hand-in-hand with LCD manufacturers to ensure compatibility). Place these matching systems overhead in your establishment and know the hardware and construction will keep them safely affixed. The commercial TV fixtures here are among an even larger displays selection for floor, counter, and wall mount, represented elsewhere in our online store. For now, we're focusing on LED TV ceiling mount, also known as overhead bracket systems.
As you browse our store for media supports, pay attention to features like telescoping height-adjustability, tilt, rotation, and panning options that will guide choices about flat screen placement. This selection of quality TV ceiling mounts, also called overhead bracket systems, is constructed of rugged metal for durability over many years. Each of these suspended ceiling mounts can be placed in the middle of a room for best viewing from any direction. These hanging brackets save floor, counter, and wall space when displaying media. The suspended fixtures allow for myriad settings depending on placement of the television and what type of audience is expected; whether they will be seated, or standing, etc. Just browse our online catalog for matching VESA numbers after your display manufacturer is chosen for the perfect match.
What features are of interest when choosing a quality flat panel holder?
Universal TV ceiling mounts are VESA-compatible to complement many sizes, makes and models.
Tilting and rotation/panning options 90 to 360 degrees for clear views.
Telescoping/height adjustable for positioning in large and small rooms.
Heavy duty steel and aluminum options supporting larger media up to 220 lbs.
Extra-long brackets for flush mounting against windows for promotions.
Check each system for horizontal or landscape orientation options.
Single and dual monitors for expanded viewing choices for advertisers.
An array of overhead mounting bracket options for plasma screen televisions is priced to sell at this online store. Savvy shoppers know that they will get the best prices on home entertainment center or commercial displays for goods and services, at our website. Select brackets with telescoping posts and angle mounts in silver and black, neutral colors that complement any décor. This quality flat panel holder for ceiling mount is constructed of rugged metal, and ships with secure hardware. A hanging system frees up floor and wall space for merchandise and foot traffic, using suspension to make better use of commercial space. The brackets are shipped with proper hardware and screws that attach to concrete and wood. An overhead ceiling mount for any television model and size can be found in this huge online store, so shop today for suspended display-ware!
This website endeavors to provide the most comprehensive selection of affordable ceiling mounts, wall racks, and television stands on the market. Designed to meet VESA standards for compatibility, these brackets accommodate a 72" Vizio plasma screen as easily as a 19" Samsung, Sony, or NEC LCD. Whether these hanging mounts feature telescoping poles for height-adjustment, or they have tilting brackets to varying degrees, these suspended mounts for ceiling work well in mall or retail environments, cafes, restaurants, professional office buildings and corporate parks, colleges, universities, and gyms.