Counter Monitor Mounts for Single & Multi-Screen Displays
---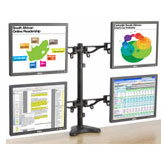 Universal Mounts and Clamp-On Brackets for Single or Multiple Monitor Setups
Are you looking for counter monitor mounts to save space and increase available work surfaces at the same time? It may sound like a contradiction of terms, but that's exactly what these desktop TV stands will do. Multi-screen counter monitor mounts raise flat screens off the desktop, reducing the footprint needed. The screen display stands use adjustable arms to raise or lower the screens. These types of counter monitor mounts, sometimes called adjustable flat screen mounting brackets, feature secure base styles designed to safely support multiple fixtures while allowing the maximum amount of movement for usability. Desk or tabletop mounted LED TV stands can feature clamp-on, permanent or weighted bases for stability. Highly portable clamp style mounts attatch securely to the edge of desks or countertops. Varying styles of mounting brackets are availble to support up to six displays at once.
What are the benefits of universal TV stands that support two or more flat screen devices?
Counter monitor mounts are perfect for increasing workspace in smaller areas, from cramped cubicles to small offices, shared spaces and more.
This style of computer stand is designed with multitasking in mind. Having immediate access to information from multiple programs is a must in today's fast-paced work places.
Adjustable monitor mounts allow maximum visibility and support both portrait and landscape orientations. Displaying information at different angles can help reduce eye and neck strain, resulting in a safer, more ergonomic office environment.
Clamp-on multi-monitor setups are designed for both stability and portability and can be easily moved from place to place as needed. This type of arrangement is particularly well suited to use showcasing digital media displays at trade shows as well as for everyday office use.
Bolt-on, permanently installed multiple monitor setups allow the space-saving mounting brackets to accommodate heavy widescreen electronic displays without danger of falling or damage.
Storage and accessibility options are also available on many styles that allow peripherals such as laptops, speakers, tablets or cameras to be integrated into the stand as a whole. Durable, adjustable height shelving can effectively add to portable or temporary workspace arrangements to allow maximum efficiency in any environment.
Like all commercial LED TV stands, multi-monitor setups are designed with VESA-compatible mounting brackets. This ensures that matching screen sizes to supports and installing the fixtures is easy. Many of these television displays also include additional features such as manual and automatic lift mechanisms that control tilt, rotation, swivel and panning functions. Cable management channels and variable height controls make these adjustable monitor mounts an excellent choice for any commercial or professional environment.
What materials are used for multiple monitor setups?
Steel constructions make the most durable frames, bracket and supports and are especially effective when used for oversize flat screens.
Sturdy aluminum provides strength without adding weight, and is an economical alternative to steel.
Molded plastic fittings and bases ensure that clamp-on brackets attach securely to mounting surfaces without damage to furniture or display fixtures.
Many styles also include safety and protective features such as rubber or foam padding, non-skid base feet and separate cable-lock devices.
Flat screen monitor mounts for flat panel display fixtures fit easily into any office or professional working environment. Day-to-day operations, customer-facing service positions, trade show or event marketing, schools, organizations and training facilities can all benefit from increased efficiency and space management. From multi-monitor setups for distance learning or teleconferencing to facilities monitoring to real-time data collection and analysis or simply showcasing four sporting events at once for entertainment, this type of adjustable screen display accessory is one of the most cost-effective choices available for any business.
Our wide selection of stands and brackets is available in a variety of finish colors and styles to match any decor. TVStandsOnly.com specializes in offering the best, most cost efficient flat panel displays with commercial grade quality, wholesale pricing and fast shipping on every order. Our easy to navigate online warehouse offers one-click self service ordering as well as easy access to our staff of highly trained service specialists who can assist every customer with questions, concerns or recommendations via live chat, our Call Center or email.