TV Wall Mount w/ Fixed Brackets or Articulating Arms
---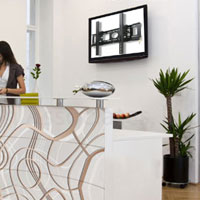 TV Wall Mount - Fixed or Full Motion Brackets
What are the advantages of using an LED TV wall mount for displaying flat panels? These brackets support a television display at any height. This device enables viewers to see a multimedia presentation from any location in a room. This full motion media stand displays small to extra-large televisions and every size in between, due to VESA compatibility. These fixed and tilting accessories can easily be adjusted to accommodate viewer needs and a myriad of television sizes. This universal TV wall mount, also known as a plasma screen bracket, features full motion and tilt options for maximum viewer comfort. The hardware can be used at home for entertaining guests, in a retail store for promotional advertising, and in a business setting for sales meetings. Options for fixed and gas spring articulating armature hardware are plentiful at your go-to website for all things display. This commercial TV wall mount is a great way to keep floors and counters free. Shop this website for multimedia accessories that feature fixed, swivel, and tilt-and-pan capability. The full gamut of television holders (including floor, countertop, and ceiling models), can be found elsewhere at this online store.
Where can this professional plasma screen bracket be used?
This TV wall mount is perfect for a bedroom, living room, kitchen, family room/finished basement, or home gym, because it leaves floor and counter space open for furniture and equipment.
Professionals in the travel, airline, and hotel industry use these fixtures for looping advertising, or showcasing entertainment for customers in a waiting area.
Retailers use this hardware for mounting televisions to promote and sell goods and services, reinforcing brand, or entertaining people who are waiting to do business.
Banks, museums, and other venues with valuables inside need to display monitors high up for surveillance and security purposes.
These wall mount fixtures position monitors at a height that is easy to view no matter where a person is in the room in relation to the technology. By putting the screen high, and adjusting using its swivel and tilt capability, everyone can see the presentation no matter where they are standing or sitting. This is an especially useful feature in restaurants, where tables and bars may be placed at different levels. This full motion fixture is easy to set up with the accompanying hardware (any additional screws can be purchased locally.) These units are extremely rugged for a secure wall mount and longevity. These inexpensive media display brackets with VESA compatibility ensure there is a compatible stand for most existing makes of flat panel television.
These full motion fixtures are supported by the Video Electronics Standards Association (VESA), which took the guess work out of selecting media hardware. Directed by VESA, stand and television manufacturers began creating universal articulating brackets to fit all types of LCDs. There are myriad ideal choices, whether trying to display a 65" Sony or a 37" Toshiba. Our company ships common hardware typical in mounting flat screens, but any additional screws may be purchased at a local hardware store. These TV wall bracket systems with articulating arms contain an assortment of hardware for different uses depending on the layout of a venue.
Browse the website-at-large for a more extended selection of commercial flat panel mounts for ceiling, floor, and counter, with fixed or rotating designs. These secure and rugged fixtures will support your favorite televisions, with full motion armature and tilt options. These articulating arms with silver or black metal finishes blend with any décor. The units will move side to side slightly, or a full 360 degrees depending on the hardware chosen. The tilting systems also have an adjustable panning mechanism. Rugged construction means these fixtures will last for years. All items are shipped with an Allen wrench, though some required only an included knob for set up. A rotating armature on a TV wall bracket always means the screens can be viewed from myriad positions, making this an extremely versatile piece of hardware, and a must-have in large venues particularly.