Audio Visual Cart with TV Brackets & Storage
---
Carts for Audio Visual Equipment are Made of Durable Steel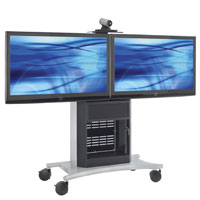 Need a mobile mount for holding a television? This audio visual cart can display a flat screen while also carrying AV gear. Each one is made of strong steel with a neutral finish of black, silver or blue. These audio visual carts, or LED TV trolleys, feature one or more shelves for holding media/multimedia equipment like projectors, DVD and Blu-Ray players, laptops and tablets. They may also feature a lower storage cabinet for hiding valuable supplies behind a locking door. With its (4) swiveling caster wheels, this audio visual cart offers excellent mobililty from room to room or even building to building.
What options are available with these commercial TV trolleys?
Each universal audio visual cart can hold a monitor or two, but will only support up to a certain size. Smaller models can hold up to 37" flatscreen while the largest fixtures can support televisions measuring up to 80". Some may have a minimum size requirement, which may be important for customers with a small monitor.
This type of cart is available with many different storage configurations. Some feature a simple vertical rack, while others have shelves that stick out on each side. Stands with a locking cabinet are ideal for securing valuable electronics in any environment. These have one or two swinging doors with a strong steel construction for resisting break-ins. A mount with an extending shelf is excellent for saving space while in use or in storage. This shelving simply pulls out from the front or side for holding as much AV equipment as possible.
A TV trolley can come with a removable screen bracket for creating even more storage space. This allows users to place projectors and other media/multimedia gear on the top for a change in display. This stand with wheels can be used to hold AV equipment that connects to another, non-mounted flatscreen.
As previously mentioned, this cart can come with the option of accommodating two monitors at once. One of these units holds the flat panels side by side for an extra wide display.
Mounts with wheels like these can also come with an additional camera shelf that makes teleconferencing easy. This bracket is height adjustable for accommodating different board room setups.
Some models of this mobile cabinet include a tilting bracket that adds extra viewing angles. These fixtures with wheels can tilt forward and backward 15° for added visibility.
An LED TV cart may also include a power strip with (3) to (6) outlets. Each surge protector features a cord measuring between 15' with 20'.
Where can this television and projector holder be used? A commercial multimedia cabinet like this can be used in offices for showing presentations at meetings. It can also be used for video conferencing with its shelf for a camera. This type of mobile fixture is also commonly used in schools and colleges for showing videos to students. In addition, it can support a projector for larger learning exercises. These units are great for teachers that want students to create videos for a project.
When choosing a universal media/multimedia stand, it's important to know which units are compatible with their intended flatscreen. By checking the VESA size, customers can be sure that their flat panel display will fit within a given bracket. Mobile flat screen cabinets may also have a weight restriction so that they can safely display electronics. These considerations are important when choosing an AV gear dolly.