Commercial Digital Signage Displays with Integrated Media Player
Sorry, nothing is currently available here. More may be back in stock soon! For more details or help finding alternatives please contact us via phone or live chat during operating hours.
---
Displays for Digital Signage with Included Templates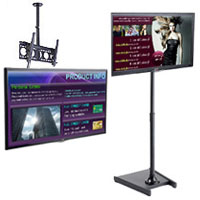 Need a dynamic advertiser that's easy to use? These commercial digital signage displays are a great investment for any company. The flat screen TV signs can be used to launch advertising campaigns without the printing costs. With each of these digital signage displays, users control their showcase with a computer. Or, opt for our touchscreen kiosks for added convenience. This type of kit comes with a complete package of easy-to-use software, pre-made templates and the tools to create additional templates. Digital signage displays, or merchandising flat screens, also allow users to create custom slides for presentations, making them an ideal solution for office managers. Anyone can create personalized content.
How do these advertising LED TVs work?
Content like slides and video files can be made on a computer and saved to a USB flash drive, then inserted it into a media player for use on these flat panel mounts.
Use the remote's menu options to configure the plasma screen. On a plug and play style, options include slide interval times and transition effects.
Each television comes with an auto-play feature. To start a slideshow, plug the flash drive into the advertising showcase.
How can this all-in-one television merchandising enhance your business activity? In public spaces, these flat panel packages showcase news and financial tickers, sports scores, and weather forecasts. Message boards inform visitors of fire exits, elevators, cafeterias, or facilities. This type of electronic sign completes any hotel lobby by suggesting nearby restaurants, infant-friendly activities, and entertainment options to visitors. Corporate offices use flat panel messaging for health and safety information, company news and other helpful content. Restaurants show menus and pricing to potential patrons. Churches can also use them to announce events or showcase lyrics during songs. All-in-one kits like these are an ideal solution for advertising any company's merchandise and services. Our newly-launched floor kiosks offer modern designs that fit in well with any contemporary interior. Place these in mallways to offer exclusive content not available on visitors' cellphones. Showcase upcoming events, store directories, and other personalized information that targets the consumer. Touchscreen models do away with hooking up a computer to manage the content. This makes these floor-standing beacons excellent marketing tools for the business owner, saving both time and money with wireless setup.
What different packages are available with these signage displays?
These LED monitors come as plug and play models that are smaller than most screens, but can be placed on countertops or stood up in a retail store with a small footprint. Models like these can support playback of content like single slides, video, audio and full slideshows with varying intervals. They also feature an internal memory that allows them to store 2GB of data for immediate use with their integrated media player.
The larger LG SuperSign technology features more input options with their HDMI, composite, component and RGB ports. This allows users to show streams and live TV, making them a great solution for bars and restaurants. This type of unit also comes with USB cloning that allows settings to be copied between multiple fixtures. In addition, using a LAN connection, users can control up to 50 other SuperSigns. Public controls are also available, letting storeowners turn the fixtures on and off at certain times, and allowing them to have a minimum or maximum volume.
Interactivity is the buzzword when it comes to today's digital transformation. Providing user-friendly content at the touch of a finger engages potential customers in ways other displays simply don't. Our best-selling touchscreen floor kiosks are extremely popular with customers, who appreciate the quality and convenience they bring to all facets of application.
Of course, the monitors included in these complete packages are commercial-grade. Each one is engineered to endure longer hours of use than residential models. LG units come with a parts and labor manufacturer's warranty for additional peace of mind.