Pedestal TV Stands | Freestanding LED Holders
---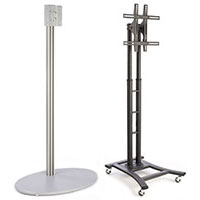 Pedestal TV Stands - Universal LED Mounts for Flat Screen TVs
Do you need pedestal TV stands for your upcoming trade show, conference or board room meeting? Flat panel TV stands with mounts are perfect for attracting crowds and displaying your custom videos and advertisements. The pedestal TV stands, also known as freestanding monitor holders, are great for use in offices as well! Update your employees on company news, events and quotas in the break or lunch room. In addition, the pedestal TV stands come with a wide variety of features including the ability to tilt, rotate and swivel to accommodate various viewing needs.
These plasma TV stands include configuration and display options. Additional hardware requirements are minimal to none. Electronic cords are concealed in the channeled post supports. The bases have clean outlines and are wide enough for stability in crowded areas. Freed up from long fabrication times, your sales staff can turn their attention to the crowd of prospective customers! These universal stands for TVs, including large monitor brackets are available in either silver or black finish to blend in with any décor.
Who can benefit from the purchase of these freestanding monitor displays?
Advertising staff covering a trade show booth rely on pedestal TV stands that are easy to transport. These commercial mounts are built for travel to convention centers, hotel lobbies and casinos.
Authors and historians rely on LED monitors to illustrate their remarks with relevant imagery. They need a stand that can go with them on the lecture circuit.
Organizations whose staff travel to inform, educate or advertise their members can make great use of the freestanding units.
Management who communicates with their employees via webcasts use large-screen LED mounts to ensure that everyone can see them.
Why is a VESA bracket a critical consideration?
These commercial flat screen television mounts are sold with universal VESA brackets.
The Video Electronics Standards Association has standardized the design specifications for mounting bracket holes, whether they're a Sony, Panasonic, Toshiba, or other make.
Your TV's user manual tells you its VESA hole specifications. These are typically shown in millimeters, such as 200mm x 200mm, or 400mm x 400mm.
Our expert purchasing staff shop worldwide for the best designs and price ranges, and our inventory expands often! Our online store stocks 1000s of choices in flat screen television holders. In addition to brackets for extra large screens, there are stands for small screens with wide oval bases, acrylic shelves, space for two screens, metal literature pockets, digital sign packages, poster frame areas, and much more. Almost every size is accessible nude, with a small shelf, or a large shelf. There is even a TV rack that holds 2 screens. Be sure to visit the best sellers section to see the top commercial TV racks bought by our customers.