TV Stands With Shelves for Business Presentations
---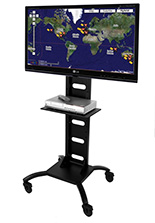 Universal TV Stands With Shelves for Media Storage & Presentations
How are TV stands with shelves incorporated into a business marketing plan? These entertainment centers with media storage combine human resources and technology with sleek styling for professional presentations and product demos. Whether lecturing in a conference hall, school auditorium, or office setting, you'll look forward to using these TV stands with shelves to augment all of your speaking engagements. Most of these LED stands for commercial use have gliding caster wheels so they are easy to move from room to room. Sales people love these flat screen trolleys for unveiling new products out on the sales floor.
Business people say these TV stands with shelves, like television carts, are their go-to tools for meetings and presentations. Media storage for laptops, DVD players, audio visual equipment, and cameras ensures the talk will proceed flawlessly. Some models have extra trays for notes and supporting literature; still others feature pockets for company take-aways like brochures and magazines. These commercial LED stands keep the presentation organized and professional for employees or visitors.
What are the kinds of features I can expect to get with these entertainment centers?
These universal TV stands with shelves feature top notch engineering.
Available colors include decor-neutral silver or classic black finish with faux wood MDF, glass, or metal shelf accessories.
The support post conceals power cords inside or alongside the back of it.
Many of these LCD mounts include lockable caster wheels, and the wide-base design provised excellent stability.
Heavy duty steel or aluminum construction.
Some models feature locking cabinets or drawers to ensure expensive technology like your laptop is protected if you step away. Each of these LED TV stands have an understated, contemporary design guaranteed to look the part wherever it it displayed. Companies and universities use monitor stands with height-adjustable shelves and brackets for conferences and colloquia. Extensive media storage is possible for all your modern-day technology, from webcams to audio visual equipment, laptops, and speakers for running product training seminars, Powerpoint presentations, video teleconferences, and webcasts. Buy these all-in-one TV mounts with shelves when you want to travel light! A mobile presentation stand is great at trade shows whether the presenter interacts closely with prospective clients, or they set up stations for visitors where they can walk through a self-explanatory service or product demo. Expand your company's reach with these media displays while raising brand awareness and sales.