Point of Sale TV Stands | LED Monitor Displays with Literature Pockets
---
Universal TV Stands with Point of Sale Accessories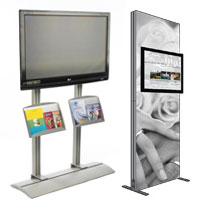 Need a combination display for holding a monitor and signage? These commercial point of sale TV stands are great for any retail store because they can hold a dynamic screen in addition to static signage. While they can be used on any sales floor, they are also ideal for advertising at events like trade shows and business expos. Point of sale TV stands, also known as television mounts with literature pockets, come with the option of a poster frame or shelves for brochures, flyers and magazines. These fixtures are excellent for promotion in public environments because their durable metal fabrication will withstand high traffic conditions. Each point of sale LED TV stand comes in a neutral black or silver finish that will match any interior.
What types of advertising flat panel racks are available?
Point of sale TV stands can come with a clear poster holder that displays graphics in a portrait orientation. These frames feature a straight or curved design made with (2) PVC lenses that keep banners in place while protecting them from dust and moisture while reducing glare. Models with a curved design can hold signs measuring 18" x 37" and have swiveling caster wheels that make them easy to transport. They also come with the option of a tilting or stationary mount for extra visibility. Units with a straight design can display a 21.5" x 60" graphic between two posts. These store fixtures have a bracket that can hold a monitor horizontally or vertically.
Standing television holders can also include shelves for holding handouts like flyers and brochures. With literature pockets, these racks can dispense promotional material at events. Alternatively, they can be used for advertising magazines in retail stores on the sales floor. These shelves area either made of acrylic, silver metal or MDF with a wood grain finish. Each combination display can come with a single compartment or up to (4) literature pockets. Units with a rectangular base include locking casters for easy mobility. On some models, these wheels can be removed to create a stationary holder. Many of these also come with the option of a tilting or non-tilting mount.
LED TV stands in a convention booth kit feature a variety of components. These are great for business promotion at any trade show or exposition. Each set includes truss supports that hold flat panels and extra-large sized graphics. Each set comes with a screen for displaying a mural with the dimensions 58"x113", 93"x93", 80"x88" and 153"x88". They also include (2) monitor brackets that are either part of the larger frame, or placed individually. Shelves and counters are also included for dispensing promotional flyers and brochures. This type of set does not require tools to set up, making them ideal for any business that needs a simple event booth. These kits include carrying cases and bags that make it easy to bring them to and from any location.
Poster stands feature one or two 35"x95" custom banners and one or two brackets for 26"-40" screens. These have a sleek design where the image covers the entire side. While they lack a counter for magazines, these simple merchandisers can be placed on a retail sales floor for advertising nearby goods. This type of fixture also comes with a wheeled carrying case for bringing them to banquets.
These commercial television stands will increase sales in any retail store, or spread awareness about a company at any trade show. This type of universal TV mount uses a VESA panel for holding flat panels, allowing customers to know what model will fit their television. In addition, units with compartments for magazines, flyers and brochures describe their shelving dimensions for additional convenience.