TV Mounting Accessories for Flat Panel Media Stations
---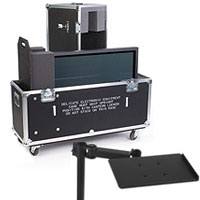 TV Mounting Accessories - Shelves, Cases & Locks for Flat Screens
How can commercial TV mounting accessories help round out an organizational marketing plan? That's easy. These wall mount kits and wheeled storage carts have special features such as shelf systems for related technology, column channels for hiding ugly cable cords, and padding to keep devices safe during transport. Each of these LED TV mounting accessories keeps the display area neat and professional during lectures, conferences, and sales pitches. This universal television equipment for tradeshows is exceptional and comprehensive, so customers can find everything they need for pulling together multimedia presentations at this online store. Our TV mounting accessories, also known as flat panel hardware and storage, allow the user to travel with their business tools safely and efficiently. This hardware can also expand possibilities for plasma screen use in the office for meetings, company presentations, and product demonstrations.
What universal flat panel television equipment is available from this online store?
Locking cart wheels for both portability & stability during a presentation.
Wall mount hardware keeps floors & counters clear.
Add-on shelves hold personal items, a laptop, DVD player, or audio equipment.
Kensington lock devices w/ keys & security cables for securing electronics.
The LED TV crates are portable and secure. They are available in an assortment of monitor sizes. Foam inserts pad the inside of storage carts keep electronic equipment safe. Locking wheels keep presentation areas fixed during a lecture or sales promotion. Some models transport your flat screen while providing the base for viewing. Remote contolled hydraulic lifts raise the TV effortlessly from the crate for an all-in-one presentation display.
This website offers every component needed to pull off a smashing marketing campaign, and inventory - stocked in our MA warehouse - is huge, and growing all the time. Boasting a nation-wide client base, we provide in-depth expertise, and a high level of thoughtful, informed customer care service. Let us help you select compatible mounting brackets for your plasma device. The advertising specialists at this website follow the market intently so they are on top of new designs, technology, and as always, best pricing. Thousands of commercial TV hardware and cart selections are here for the buying - all priced competitively and quick-shipped. Our inventory is continually updated, so please visit our web pages frequently for the most current offerings.